Duration
Time to Complete Painting Projects
There are no set rules as to how long it should take to paint a room or the outside of a property. Much of it will depend both on how many painters will be present, and also the original state of the property before the work commences.
That is why it is always important that you don't employ a painter on an hourly basis unless you know them and trust them already. A skilled professional painter should have painted enough properties in various states of repair to be able to work out accurately what the likely costs will be, and consequently how long it should take to finish a particular project.
Estimation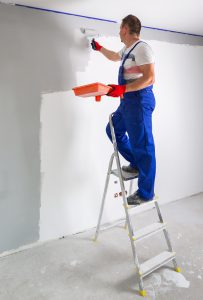 It might surprise you but some decorators will come armed with a calculator and spend two hours going round your home before they leave, promising to send you a quote (also have a look at what the difference between a quote and an estimate is), while others may only take half an hour to look round, spending much of their time scratching their chin. Don't be mistaken, they both know what they are doing, they just have different ways of doing it.
Of course you need to have a fairly accurate idea of the time scale of the painting project you have in mind as you have to plan to be around all the time work is going on. In addition, it is worth sitting down and working out a plan of action with your painter as often they would rather work on more than one room at a time. It makes sense when you think about it that if three rooms need their ceilings painted, then you do all three ceilings one after another while you have the paint and tools at the ready. It is little areas like this where you can help your painter reduce the time taken to do the work, and subsequently be more amenable when it comes to overall costs. Find more information on costs on this page: Prices and Costs.
Ask for Free Quotes From Quality Painters
You will discover that there is considerably more involved in painting than knowing how to use a paintbrush or roller. We want you to feel more confident that when you ask a painter to give you a quote for painting your property, you will recognise from their answers that they clearly know what they are talking about. So, have a look at these articles and then use our simple form to request quotes from local painters to get the ball rolling. Request your Free Quotes here.
What does your painting job cost?
Approach painters and decorators in your area, request quotes and start comparing rates in order to find the right tradesman for your painting job.
Read other articles and guides:
> Painter
> Painter prices
> Personal Safety
> Primers
> Private Residential Painting
> Ratings
> Receive Quotes From Painters
> Sanding
> Good Quality Paints
> Local Painters
> Mould