Painting the Outside of a Property
What to Consider Before Painting the Outside of a Property
Depending on where you live and the type of property you own, painting the outside of your property could take a few days to weeks, or even months. There are many things for a professional painter to take into account when asked to paint the outside of a property. Some factors will not need consideration for obvious reasons, but others may need to be investigated. For a start, there are certain conservation areas in cities, towns and villages where there are restrictions on the colour you can paint the outside of any property. There are also restrictions based on whether your property is Grade I or Grade II listed for the purposes of preservation.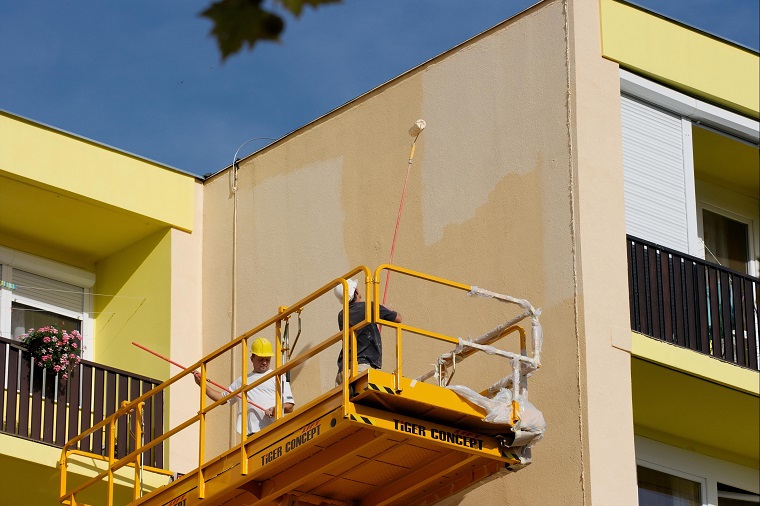 If your property is a tall terraced house on a street then you may need to erect scaffolding to be able to reach the second and third floors. If you have to erect scaffolding then you will usually have to obtain permission from the local council to erect it, and you will have to take specific safety precautions, including wrapping the poles at ground floor level in bright tape to save members of the public walking into them. You may also need to install fine netting if you are having to do any repairs to the facade prior to painting to ensure no masonry falls on members of the public.
If you are having scaffolding erected (which can be expensive) it is often worth suggesting to the property owner to have a builder check the roof and chimney stacks while there is easy access. Also check for the proximity of any trees as these can be responsible for brushing up against the walls and roofs of properties. The same applies to any shrubs in beds around the property, as well as spreading foliage such as Virginia Creeper and ivy, which can do untold damage to the render on a property, no matter how pretty it can look. Ask permission of the property owner to remove any foliage based on your recommendations.
Check all the walls for green algae, especially on a north-facing wall. If this exists then washing the wall with a fungicide prior to painting will protect the surface.
Finally, do a health and safety inspection. Check for overhead power cables, space for ladders and firm ground to place them on. Watch for vehicular or pedestrian traffic where appropriate and ensure that there is adequate signage both before the property from each direction, as well as immediately surrounding it. If you are working in an environment where there is passing traffic, wear a high visibility jacket at all times. Finally, make sure you have the correct insurance cover for the environment you will be working in.
Ask for Free Quotes From Quality Painters
You will discover that there is considerably more involved in painting than knowing how to use a paintbrush or roller. We want you to feel more confident that when you ask a painter to give you a quote for painting your property, you will recognise from their answers that they clearly know what they are talking about. So, have a look at these articles and then use our simple form to request quotes from local painters to get the ball rolling. Request your Free Quotes here.
What does your painting job cost?
Approach painters and decorators in your area, request quotes and start comparing rates in order to find the right tradesman for your painting job.
Read other articles and guides:
> Painter
> Painter prices
> Painting Tips
> Personal Safety
> Private Residential Painting
> Sanding
> Types of Paint
> Understanding Paint Types
> What to look for in a painter?
> Ask for Multiple Quotes
> Cowboy Painters